The Companion of Fools
The Companion of Fools
A reader sent us a Facebook post today from the page of the well known Dr. Janet E. Smith: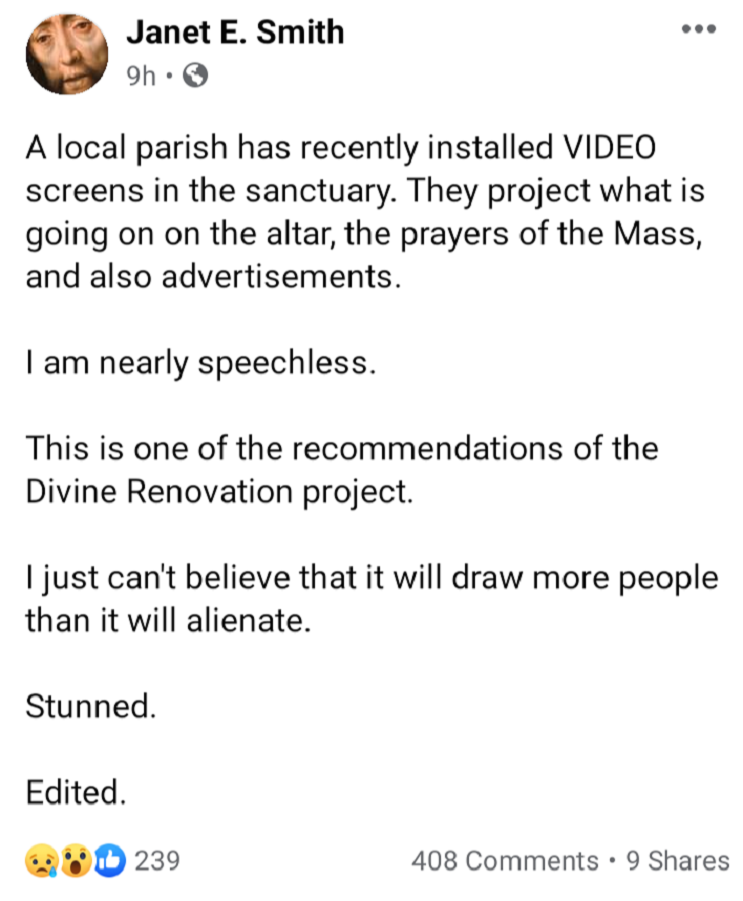 Well. This is wretched, but predictable.
Looks like we have to drag out our friends The Simpsons once again:
You can, if you wish, dig through the back issues of The Catholic Moment to see how our current diocesan leadership has been wooed by the culture of programs like Divine Renovation as we have previously covered. You can note the reliance on such programs in learning how to recast a parish with a new identity and "vision," and how the fascination with ugly novelties has been a frequent visitor to the scene, even in our diocese.
Or you can ask yourself why your parish culture deserves to be overwritten by those who believe in such things. You can question why materialistic ugliness is expected to draw anyone closer to God (rather than alienating them as Professor Smith predicts).
Some might say: "There won't be video ads in our sanctuaries. We won't go so far here."
Hopefully so. But let's take a step back: Why would we go any length with these ideas in which common sense is conspicuous by its absence, and which deviate from the religious sense of the liturgy and an understanding of what is good for human beings? That they do not spring from a sound basis is precisely why these weird projects are so needlessly destructive and, well, yikes.
Eschew them without regret. You can live your Catholic Faith fully, proudly, deeply, and better without these detours to Cringeville, and I suspect most everyone, including their hawkers, knows that perfectly well.
"Whoever walks with the wise becomes wise, but the companion of fools will suffer harm." (Proverbs 13:20)